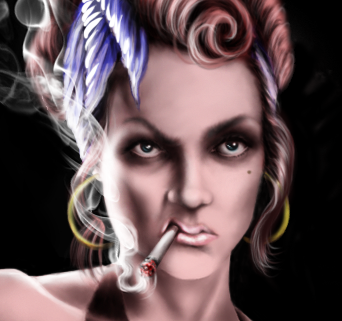 Hi! Glad you found me!
I live in Kamloops BC, Canada. 
I got started as an artist, when I was in my late teens, going door-to-door to local, retail businesses, offering my painting services during the holiday season, to paint store front windows. 
From there, I went to VIU and studied Graphic Design. 
Upon graduation, armed with my 2 year diploma, I was offered a pretty good position designing yellow page display ads for Dominion Directories. I did that for 3 *yawn* years. 
Since then, I've worked at sign shops, airbrushed motorcycles, drawn illustrations for book covers, posters, packaging, tattoos, emojis, painted theatre flats, designed logos, and airbrushed the neighbour's bar fridge. 
*gasp I've been at it for 26 years now!😳
 I have been trained using traditional as well as digital methods to create images utilizing industry standard graphics software for all deliverables.
I am currently working on a children's book and have been busy painting the town! Literally!
I'm easy and friendly to work with. And I always look forward to working with you on your project. With me, the client always comes first!
Laura Anne
Client List
Garden Gourmet Fine Foods
Williams Lake Studio Theatre